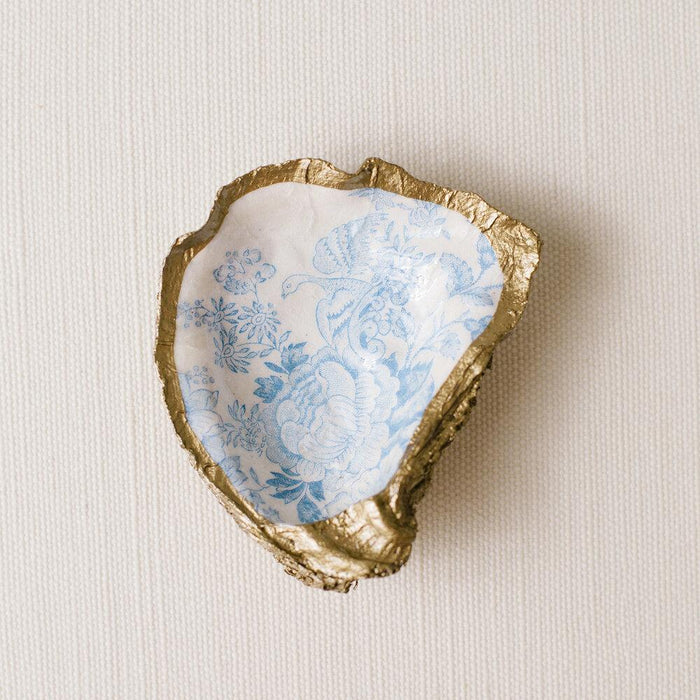 Decoupage Oyster Ring Dish
The Indigo Collection of Decoupage Oyster Jewelry Dishes is timeless and elegant. Inspired by the classic beauty of Delftware and fine china, this line of oyster shell dishes features delicate designs in rich shades of cobalt, indigo, and ivory offset with the Grit and Grace trademark gilded rim. The Indigo Oyster Shell Dishes measure approximately 3.5" by 2.5", and every decoupage oyster is a one-of-a-kind.
These make a gorgeous catchall for your jewelry, soap dish, gift for a loved one, or accent to your coastal chic decor. The Indigo decoupage oysters would also be the perfect "something blue" for your favorite Charleston bride or bridesmaid gift to celebrate your beach wedding.

The decoupage oyster jewelry dishes are also a gift that gives back: Grit and Grace recycles ten oysters from Charleston-area restaurants to our local waters through our in-house oyster shell recycling program. The company is proud to share that to date, Grit & Grace Studio has recycled more than 5,000 gallons of oyster shells back to the Charleston area waters.