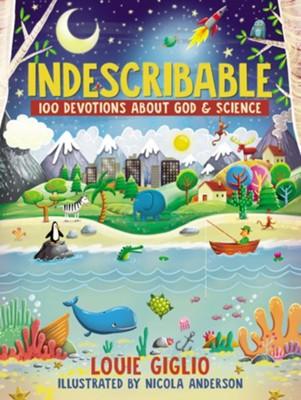 100 Devotions About God and Science 

Giglio believes God's glory is displayed through his creation! Each of his 100 kid-friendly devotions includes a Scripture passage, story, practical application, prayer, and fascinating scientific section to help kids express their faith. Topics include evolution, dinosaurs, space and the universe, molecules, geology and fossils, our amazing bodies, and more.
Each devotion features a "Be Amazed" section with fascinating facts, hands-on activities, and a closing prayer. Based on Louie Giglio's popular messages "Indescribable" and "How Great Is Our God," Indescribable: 100 Devotions About God & Science will help kids discover the incredible creation of our indescribable God.