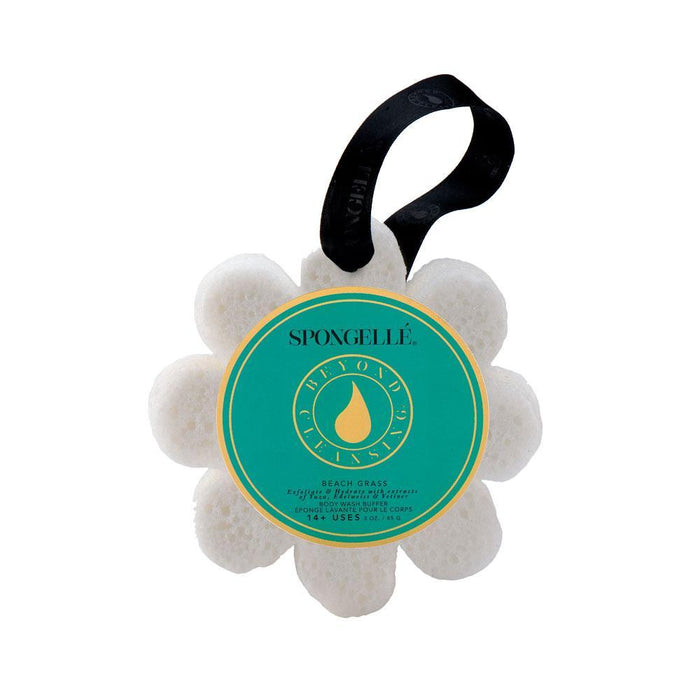 Wild Flower Bath Sponge - Beach Grass
Journey to a waterside oasis where private, sandy walks abound. Envelope your skin with an aromatic blend of musk and tall beach grass to evoke the lazy days of summer. Smooth along our hydrating bath sponge and softening body buffer to gently cleanse and exfoliate for the ultimate RSVP for one.
Smells Like
Sleeping with the shutters open at a heavenly beachside escape
Feels Like
A panoramic drive along the PCH with the top all-the-way down
Fragrance Notes
T: spicy, fruity, green M: jasmine, rose, powdery B: aquatic, woody, musk

Nestle into an unforgettably refreshing cleansing experience. Unleash Spongellé's creamy fragrance by placing your body wash-infused buffer under running water to reveal an airy, cloud-like hybrid of exfoliating massage and silky aromatic cleansing. Patented technology ensures a minimum of 14+ washes.
Rinse and squeeze out excess water after each use. Sponge can be re-purposed after complete use.
Built-In Body Wash + Buffer
Multi-Function, Multi-Use, 14+ Uses
All-in-One Beauty Treatment
Extracts of Yuzu, Edelweiss, & Vetiver
Time-Released Lather
Bacteria-Resistant Cleansing
Dermatologist Tested
Vegan Friendly, Cruelty-Free
Proprietary Infusion Technology
Chic hanging ribbon design
Portably designed for travel